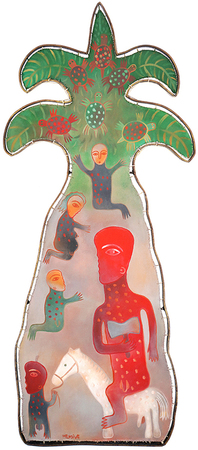 The Palm Tree and Shango
(La Palma y Shangó)
---
Author: Manuel Mendive
Year: ca 1996
Medium: acrylic on canvas and sculptured iron frame
Size: 66 x 28 1/2 x 1 inches
Inventory No: 06353
Price: $AVAILABLE


Provenance:

Cernuda Arte, Coral Gables, Florida.

Private collection, Miami (acquired from the above, 2003).



Exhibitions:
Washington D.C., John F. Kennedy Center for the Performing Arts,
Exhibition Performance, 28 - 29 April, 2 May 1999.