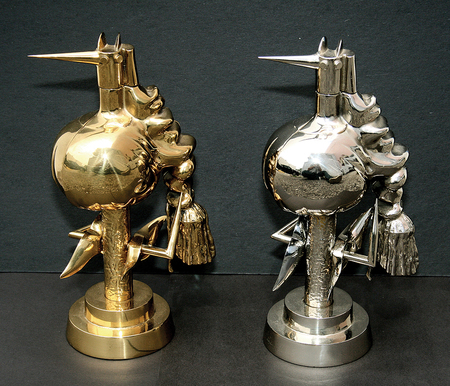 Birds of Fire, 345/500
(Pájaros de Fuego, 345/500)
---
Author: Wifredo Lam
Year: 1970
Medium: Two polished brass & chrome-plated metal sculpture
Size: 10 1/2 x 6 x 4 in each
Inventory No: 06128
Price: $AVAILABLE


Exhibited in Sotheby's New York Auction, November 17, 2005 and illustrated
in the corresponding auction catalog, lot no. 122 (different number).



Illustrated in Wifredo Lam, The Messeger, Tresart, Miami, Florida, March 2006,
pages 28 & 29 (different number).


Illustrated (Different Number) in Important Cuban Artworks, Volume Fourteen,

Cernuda Arte, Coral Gables, Florida, page 83.