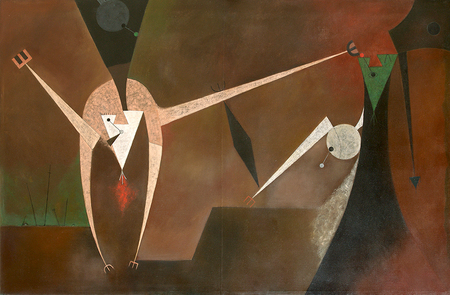 Spirit
(Espíritu)
---
Author: Jorge Camacho
Year: 1958
Medium: oil on canvas
Size: 46 x 70 1/4 inches
Inventory No: C4979
Price: $AVAILABLE


Provenance:

José Gómez Sicre Collection,Washington, D.C.

Private Collection, Caracas, Venezuela.


Exhibitions:

Exhibited in Jorge Camacho, Unión Panamericana, Washington D.C.,

May 15 to June 16, 1958. This exhibition was the artist's first

museum show in the United States.

Exhibited in the Fifth Biennial of the Museum of Modern Art of

São Paulo, São Paulo, Brazil, September - December, 1959.


Illustrations:

Illustrated in Important Cuban Artworks, Volume Fifteen,

Cernuda Arte, Coral Gables, Florida, November 2017, pg. 77.